Lot 50009 – France
Exceptionnelle fraude postale : Deux moitiés du 10c de la première émission sur un faire-part de mariage pour l'affranchir à 10c de Draguignan 10.12.1852 pour Montferrat, Var. Fraude d'un postier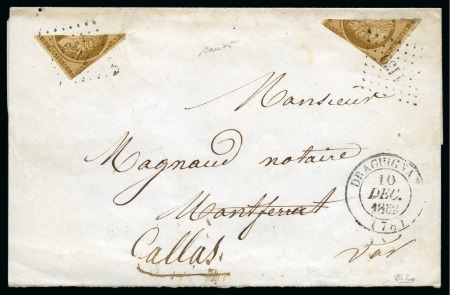 Exceptionnelle fraude postale :
Deux moitiés du 10c de la première émission utilisés pour 5c chacune sur un faire-part de mariage pour l'affranchir à 10c, de Draguignan 10.12.1852 pour Montferrat, Var. Fraude d'un postier qui annulait les timbres de manière à pouvoir réutiliser les moitiés non oblitérées sur les faire-parts non distribués et retournés au bureau. Signé Baudot et Calves.
Une autre pièce connue sur devant de lettre ex Bridoux
Utilisation illicite très spectaculaire
1
Estimate
30'000 EUR
Auction date
Wed 5 Dec 2018 at 14:00:00 (Europe/Zurich)
Unsold
Please note that we are still working on adding images for the lots. If the lot you are interested in does not have images available yet, we invite you to check again in a few days.
If by May 20th 2019 you still cannot find the images you are looking for, please send us a message. Important: don't forget to mention the lot number(s).
Thank you for your understanding.