Lot 50009 – France
Exceptionnelle fraude postale : Deux moitiés du 10c de la première émission sur un faire-part de mariage pour l'affranchir à 10c de Draguignan 10.12.1852 pour Montferrat, Var. Fraude d'un postier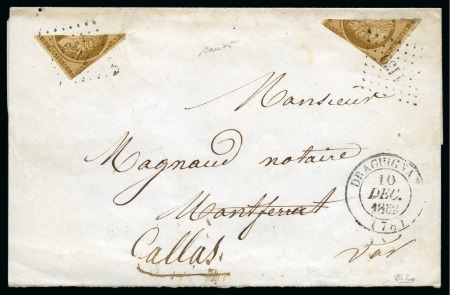 Exceptionnelle fraude postale :
Deux moitiés du 10c de la première émission utilisés pour 5c chacune sur un faire-part de mariage pour l'affranchir à 10c, de Draguignan 10.12.1852 pour Montferrat, Var. Fraude d'un postier qui annulait les timbres de manière à pouvoir réutiliser les moitiés non oblitérées sur les faire-parts non distribués et retournés au bureau. Signé Baudot et Calves.
Une autre pièce connue sur devant de lettre ex Bridoux
Utilisation illicite très spectaculaire
1
Estimate
30'000 EUR
Auction date
Wed 5 Dec 2018 at 14:00:00 (Europe/Zurich)
Unsold
If you have a strong interest in a specific lot and would like more information or further scans, click the below button and send us a message. Important: don't forget to mention the lot number(s).