Lot 20040 –
1898 (Oct 15). Large envelope franked by forerunner 5c and 10c single & block of four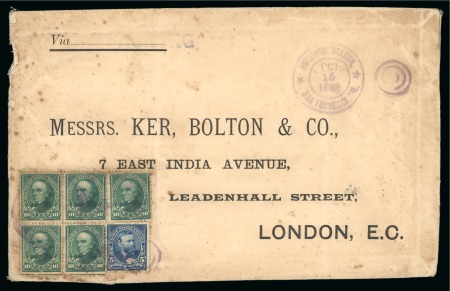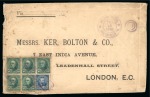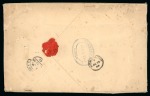 Lot 20040 –
1898 (Oct 15). Large envelope franked by forerunner 5c and 10c single & block of four
United States » U.S. Possessions » Philippines » Military Mail and Stations
Auction date
Wed 13 Oct 2021 at 17:00 (Europe/Zurich)
Description
1898 (Oct 15). Large complete pre-printed linen envelope via Hong Kong to London, franked by forerunner 5c and 10c single & block of four with guide line at base, tied by Military Philippine Station – San Francisco duplex cancel (Baker D-1), paying eleven times the UPU rate, toning spots and other faults also affecting the block of four, but scarce usage of the 10c forerunner issue.
Please note that we are still working on adding images for the lots. If the lot you are interested in does not have images available yet, we invite you to check again in a few days.
If you still cannot find the images you are looking for in a few days, please send us a message. Important: don't forget to mention the lot number(s).
Thank you for your understanding.