Lot 20034 –
1902 (Mar 1). Envelope with 1899 6c and two 2c with Special Delivery 10c, each tied by "AGANA / ISLAND OF GUAM" cds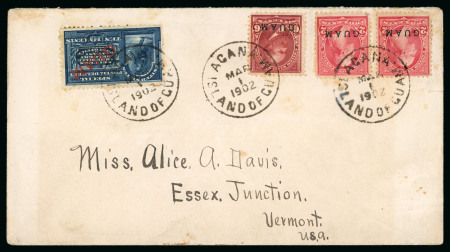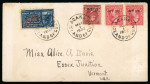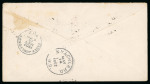 Lot 20034 –
1902 (Mar 1). Envelope with 1899 6c and two 2c with Special Delivery 10c, each tied by "AGANA / ISLAND OF GUAM" cds
United States » U.S. Possessions » Guam
Auction date
Wed 13 Oct 2021 at 17:00 (Europe/Zurich)
Description
1902 (Mar 1). Envelope from Agana to Vermont, with 1899 6c and two 2c with Special Delivery 10c, each tied by "AGANA / ISLAND OF GUAM" cds, reverse with N.Y. & CHI. R.P.O. cds and Essex Junction arrival, some toning to the stamps and cover, fine and scarce usage of the Special Delivery stamp.
Catalogue ref:
Scott E1, 2, 6
Please note that we are still working on adding images for the lots. If the lot you are interested in does not have images available yet, we invite you to check again in a few days.
If you still cannot find the images you are looking for in a few days, please send us a message. Important: don't forget to mention the lot number(s).
Thank you for your understanding.