Lot 20026 –
1901 (Feb 28). Envelope sent registered from Agana to New York, with 1899 5c and 8c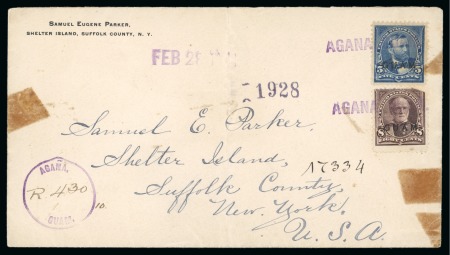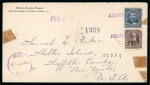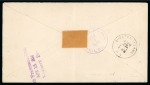 Lot 20026 –
1901 (Feb 28). Envelope sent registered from Agana to New York, with 1899 5c and 8c
United States » U.S. Possessions » Guam
Auction date
Wed 13 Oct 2021 at 17:00 (Europe/Zurich)
1901 (Feb 28). Envelope sent registered from Agaña to New York, with 1899 5c and 8c (faulty) paying the correct rate, tied by straight-line "AGANA, GUAM" violet hs with matching datestamp and Agana registration handstamp adjacent showing "hump" in rim to facilitate the Spanish "'tilde" accent mark over the "N" of Agaña, reverse with Manila and San Francisco transits, Shelter Island arrival; vertical cover fold clear of stamps, some adhesive stains with one affecting a stamp, otherwise fine; cert. Weiss (2013).
Please note that we are still working on adding images for the lots. If the lot you are interested in does not have images available yet, we invite you to check again in a few days.
If you still cannot find the images you are looking for in a few days, please send us a message. Important: don't forget to mention the lot number(s).
Thank you for your understanding.