Lot 20014 –
1899 Special Delivery 10c blue from the 1900 Special Printing, original gum with top imprint selvage separated and hinged in place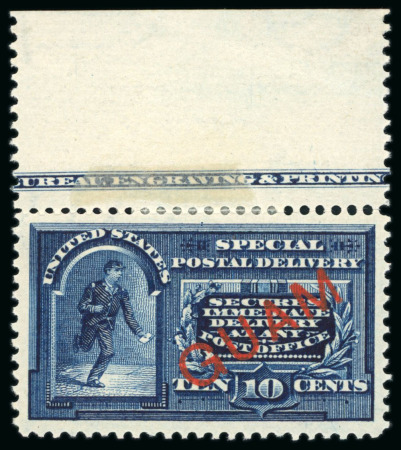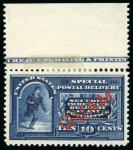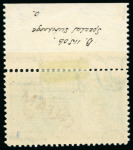 Lot 20014 –
1899 Special Delivery 10c blue from the 1900 Special Printing, original gum with top imprint selvage separated and hinged in place
United States » U.S. Possessions » Guam
Auction date
Wed 13 Oct 2021 at 17:00 (Europe/Zurich)
1899 Special Delivery 10c blue from the 1900 Special Printing, original gum with top imprint selvage separated and hinged in place, manuscript on reverse of selvedge "B. 11506, Special Surcharge, O.", very fine and well centred, ex Robert. L. Markovits.
Note: In March 1900 one pane of each denomination was prepared for the Paris and Pan-American Expositions. H.G. Mandel stamped most of these with "Specimen" on stamps that were mounted by him for the displays at the expositions, the remainders lack the handstamp.
Please note that we are still working on adding images for the lots. If the lot you are interested in does not have images available yet, we invite you to check again in a few days.
If you still cannot find the images you are looking for in a few days, please send us a message. Important: don't forget to mention the lot number(s).
Thank you for your understanding.