Lot 10081 –
1863 (Dec). Envelope from San Jose via USA to France, "Sn JOSE/de Guala" hs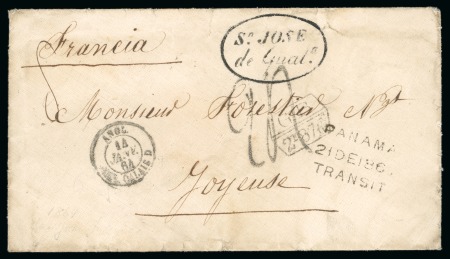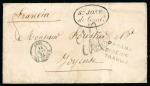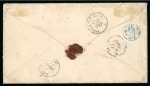 Lot 10081 –
1863 (Dec). Envelope from San Jose via USA to France, "Sn JOSE/de Guala" hs
Guatemala
Auction date
Wed 13 Oct 2021 at 15:00 (Europe/Zurich)
1863 (Dec). Envelope from San Jose via USA to France, with "Sn JOSE/de Guala" hs, carried by Central America Steamship Co. packet to Panama with "PANAMA/TRANSIT" ds, then to Colon and put aboard RMSP "Tamar" to St. Thomas, SS "Tasmanian" to Southampton, then via London and Calais to Joyeuse, with Anglo-French treaty "GB/2F87 5c/10" accountancy marking and "24" decimes charge on arrival; a rare transatlantic pre-philatelic cover from Guatemala especially with this scarce accountancy postmark.
Please note that we are still working on adding images for the lots. If the lot you are interested in does not have images available yet, we invite you to check again in a few days.
If you still cannot find the images you are looking for in a few days, please send us a message. Important: don't forget to mention the lot number(s).
Thank you for your understanding.