Lot 10076 –
German States – North German Confederation. 1868 (Jan 13). Envelope from Hamburg to Curacao, combination franking with Prussia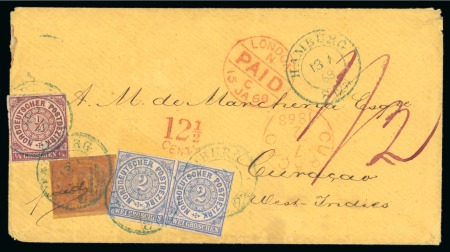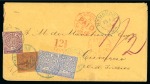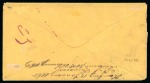 Lot 10076 –
German States – North German Confederation. 1868 (Jan 13). Envelope from Hamburg to Curacao, combination franking with Prussia
Netherlands » Netherlands Colonies » Curacao » Incoming Mail
Estimate
1'200 – 2'400 USD
Auction date
Wed 13 Oct 2021 at 15:00 (Europe/Zurich)
German States – North German Confederation. 1868 (Jan 13). Envelope from Hamburg to Curacao with Prussia 10sgr in combination with NDP 1/4gr and two 2gr all tied by blue Hamburg double circle ds, paying the 12 1/4gr single rate, carried to London with "1/2" accountancy marking and "12 1/2 / CENTS" hs (not recorded by Van de Linden or Tabeart), then from Southampton on board RMSPC "Atrato" to St. Thomas and thence by non-contract ship to Curaçao with red arrival ds on front; 1/4gr with small corner crease mentioned for accuracy, otherwise in exceptional condition in particular the Prussia 10sgr which is only rarely found in this perfect condition; a very early usage of the first NDP issue on the 13th day of sale and certainly one of the finest of the few known covers to Curaçao; cert. Flemming (2004).
Note: No contract line called at Curaçao until the extension of the French line "L" in October 1869.
:
Michel 1b, 5 + Prussia 20
Please note that we are still working on adding images for the lots. If the lot you are interested in does not have images available yet, we invite you to check again in a few days.
If you still cannot find the images you are looking for in a few days, please send us a message. Important: don't forget to mention the lot number(s).
Thank you for your understanding.