Lot 10067 –
Spain. 1865 (Jan 19). Single rate envelope from Santa Cruz de Tenerife (Canary Islands) to Boston, franked by 1865 2r, two examples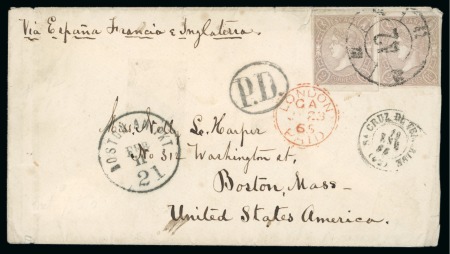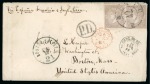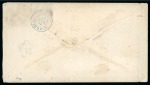 Lot 10067 –
Spain. 1865 (Jan 19). Single rate envelope from Santa Cruz de Tenerife (Canary Islands) to Boston, franked by 1865 2r, two examples
United States » Incoming Mail
Auction date
Wed 13 Oct 2021 at 15:00 (Europe/Zurich)
Spain. 1865 (Jan 19). Single rate envelope from Santa Cruz de Tenerife (Canary Islands) to Boston via Madrid (backstamp) and France, franked by 1865 2r, two examples with clear to large margins (one stamp with margin reduced at upper right) paying to disembarkation port, tied by "rueda de carreta" 42, matching cds below, red "London/Paid" transit and Boston arrival exchange cds alongside (showing 21c for the British open mail rate), embarked on the Allan Line "St. David" at Liverpool.
Please note that we are still working on adding images for the lots. If the lot you are interested in does not have images available yet, we invite you to check again in a few days.
If you still cannot find the images you are looking for in a few days, please send us a message. Important: don't forget to mention the lot number(s).
Thank you for your understanding.