Lot 40288 –
1874 (Aug 11) Envelope via French packet to Paris, franked by 'Siège' 40c and perf. 'Cérès' 30c pair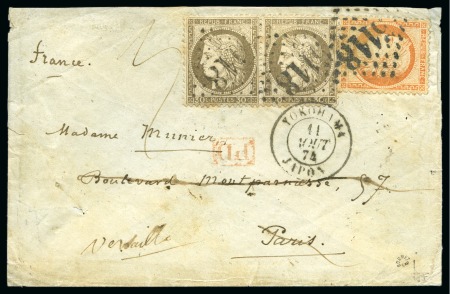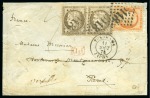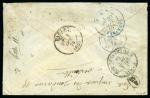 Lot 40288 –
1874 (Aug 11) Envelope via French packet to Paris, franked by 'Siège' 40c and perf. 'Cérès' 30c pair
Japan » Foreign Post Offices » French Post Office
Auction date
Wed 16 Jun 2021 at 10:00 (Europe/Zurich)
1874 (Aug 11) Envelope via French packet to Paris redirected to Versailles, franked by 'Siège' 40c and perf. 'Cérès' 30c pair, tied by "5118" lozenges and "YOKOHAMA/JAPON" cds, transits and arrival on back, very slight tone spots, a scarce franking; signed Roumet and Pigeron.
Please note that we are still working on adding images for the lots. If the lot you are interested in does not have images available yet, we invite you to check again in a few days.
If you still cannot find the images you are looking for in a few days, please send us a message. Important: don't forget to mention the lot number(s).
Thank you for your understanding.