Lot 40082 –
1919 Registered cover from Tanchang to Copenhagen, probably coming from a wreck ship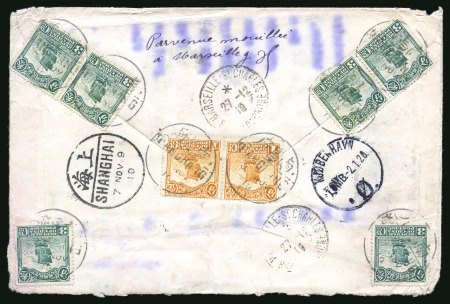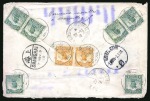 Lot 40082 –
1919 Registered cover from Tanchang to Copenhagen, probably coming from a wreck ship
China » Chinese Empire (1878-1949) » Chinese Republic
Auction date
Wed 16 Jun 2021 at 10:00 (Europe/Zurich)
1919 (Nov 3) Registered cover from Tanchang to Copenhagen, franked by 'Junk' 1c (2) and 3c (6) on reverse, tied on dispatch by cds, bilingual Shanghai cds, transit cds's from Marseilles with manuscript notation "Parvenue movillée à Marseille" and signature, (arrived wet at Marseilles), a very interesting cover which was probably saved from a ship wreck (it took one month and 20 days between Shanghai and Marseilles).
Please note that we are still working on adding images for the lots. If the lot you are interested in does not have images available yet, we invite you to check again in a few days.
If you still cannot find the images you are looking for in a few days, please send us a message. Important: don't forget to mention the lot number(s).
Thank you for your understanding.