Lot 61535 –
1839 (Jan 26) Entire letter from Pernambuco to Holland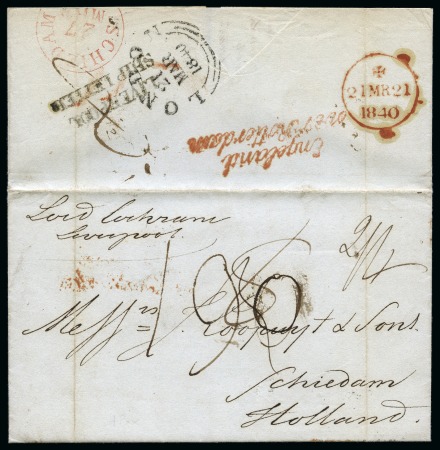 Lot 61535 –
1839 (Jan 26) Entire letter from Pernambuco to Holland
Brazil » Postal History
Auction date
Thu 17 Jun 2021 at 16:00 (UTC)
Description
1839 (Jan 26) Entire letter from Pernambuco to Schiedam, Holland, endorsed "Lord Cochrane/Liverpool", "LIVERPOOL/SHIP LETTER" with 8d ship letter charge, London transit and "England/over Rotterdam" two-line entry hs on back, front with 2s 4d charge mark suggesting that the "Lord Cochrane" was diverted , "1.90" charge to the recipient.
Please note that we are still working on adding images for the lots. If the lot you are interested in does not have images available yet, we invite you to check again in a few days.
If you still cannot find the images you are looking for in a few days, please send us a message. Important: don't forget to mention the lot number(s).
Thank you for your understanding.