Lot 71544 –
1927-30 4d Specialised study on 3 exhibit pages of the two printings, incl. inverted watermark used vertical pair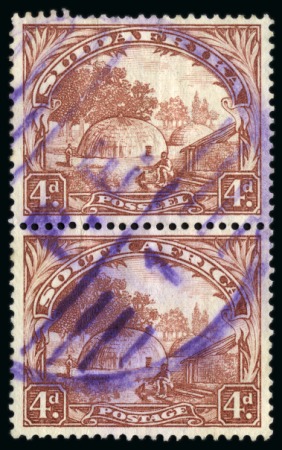 Lot 71544 –
1927-30 4d Specialised study on 3 exhibit pages of the two printings, incl. inverted watermark used vertical pair
South Africa » Union & Republic of South Africa
Auction date
Fri 18 Jun 2021 at 15:00 (Europe/Zurich)
1927-30 4d Specialised study on 3 exhibit pages of the two printings, incl. inverted watermark used vertical pair (SG £1'000), perf.14 and 14×13 1/2 mint imprint pairs, perf.14×13 1/2 mint gutter block of four, Specimen rejoined pair, etc., a useful selection.
Please note that we are still working on adding images for the lots. If the lot you are interested in does not have images available yet, we invite you to check again in a few days.
If you still cannot find the images you are looking for in a few days, please send us a message. Important: don't forget to mention the lot number(s).
Thank you for your understanding.