Lot 71092 –
1855 (Jun) Large part entire to Postmaster General in Hobarton with 1853 Courier 1d pos.19 with good to huge margins showing almost complete printers imprint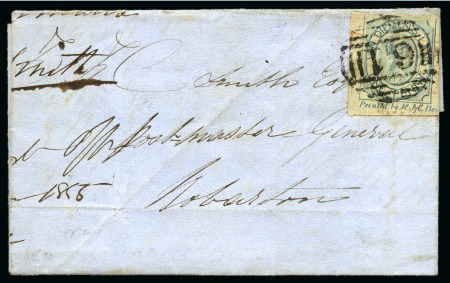 Lot 71092 –
1855 (Jun) Large part entire to Postmaster General in Hobarton with 1853 Courier 1d pos.19 with good to huge margins showing almost complete printers imprint
Australia » Tasmania
Estimate
1'500 – 2'000 GBP
Auction date
Fri 18 Jun 2021 at 15:00 (Europe/Zurich)
1855 (Jun) Large part entire to Postmaster General in Hobarton with 1853 Courier 1d pos.19 with good to huge margins showing almost complete printers imprint "Printed by H & C Bes(t)", irregularly cancelled by "PRE-PAID" hs in red as well as "61" numeral, minor soiling and vert. fold affecting stamp, extremely rare if not unique usage of the imprint on cover, ex Sato and Hiscock, cert. RPSoV (2016).
Note: There is extensive docketing on both sides, with the top flap showing "Referred to Mr Young for his information", partial notation indicating the sender was "the prsioner Samuel" and that the letter was "detained in the accts office for some time…", signed "Thos Barnard / Postmaster / 14 6 55", and side-flap with "requested to be returned".
Please note that we are still working on adding images for the lots. If the lot you are interested in does not have images available yet, we invite you to check again in a few days.
If you still cannot find the images you are looking for in a few days, please send us a message. Important: don't forget to mention the lot number(s).
Thank you for your understanding.