Lot 71090 –
NEW SOUTH WALES 1897 "Diamond Jubilee" 1d, 2d, 2 ½d (types 62/4) composite "triptych" die proof in Violet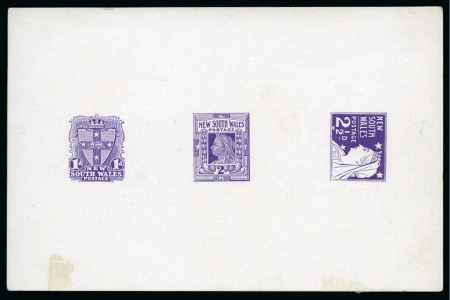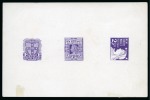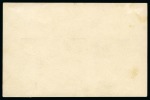 Lot 71090 –
NEW SOUTH WALES 1897 "Diamond Jubilee" 1d, 2d, 2 ½d (types 62/4) composite "triptych" die proof in Violet
Australia » New South Wales
Auction date
Fri 18 Jun 2021 at 15:00 (Europe/Zurich)
1897 "Diamond Jubilee" 1d, 2d, 2 1/2d (types 62/4) composite "triptych" die proof in Violet on thin glazed card, 143x94mm, minor surface fault in the lower left corner, an attractive and unusual item with the 2 1/2d die placed sideways.
Please note that we are still working on adding images for the lots. If the lot you are interested in does not have images available yet, we invite you to check again in a few days.
If you still cannot find the images you are looking for in a few days, please send us a message. Important: don't forget to mention the lot number(s).
Thank you for your understanding.