Lot 10129 –
A UNIQUE USAGE1835 (4.1) Private entire folded letter bearing in black the official circular handstamp of the Consulate of Greece in Egypt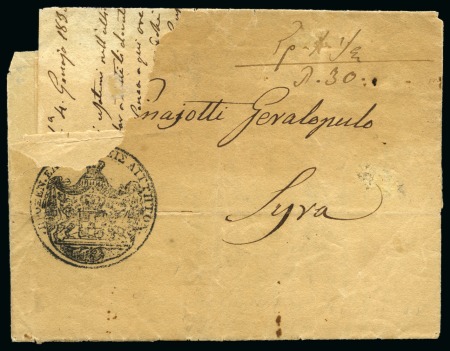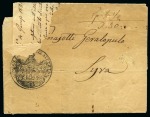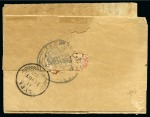 Lot 10129 –
A UNIQUE USAGE1835 (4.1) Private entire folded letter bearing in black the official circular handstamp of the Consulate of Greece in Egypt
Egypt » Greek Post Office » Alexandria
Estimate
3'400 – 4'000 EUR
Auction date
Mon 14 Jun 2021 at 14:00 (Europe/Zurich)
A UNIQUE USAGE
1835 (4.1) Private entire folded letter sent to Syra, dated 4 January 1835, bearing in black the official circular handstamp of the Consulate of Greece in Egypt, before the establishment of the official Greek Post Office, the Greek Consulate was charged to receive private correspondence, showing handwritten rate "A. 30", fumigation on arrival, proved by the handstamp of the Sanitary Office of Syra, small part of cover missing and in need of restoration due to splits along the folds, an important rarity
Rarity: The ONLY KNOWN letter with this type of handstamp (reported by Peter Smith, pp. 37-38, Themis Dacos, L'Orient Philatelique),
Provenance: Drossos
Please note that we are still working on adding images for the lots. If the lot you are interested in does not have images available yet, we invite you to check again in a few days.
If you still cannot find the images you are looking for in a few days, please send us a message. Important: don't forget to mention the lot number(s).
Thank you for your understanding.