Lot 42167 –
1907 (Jan 1) OHMS long envelope sent on the first day of issue within Tangier, with short set of 5c on 1/2d to 6p on 5s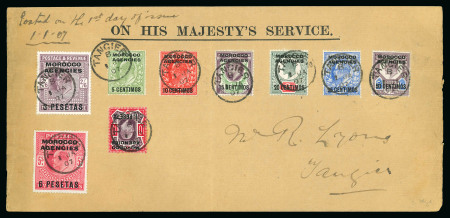 Lot 42167 –
1907 (Jan 1) OHMS long envelope sent on the first day of issue within Tangier, with short set of 5c on 1/2d to 6p on 5s
Morocco Agencies (British Post Offices) » Spanish Currency
Auction date
Tue 27 Jun 2023 at 11:00 (Europe/Zurich)
Tangier: 1907 (Jan 1) OHMS long envelope sent on the first day of issue within Tangier, with short set of 5c on 1/2d to 6p on 5s (9 values), each tied by Tangier code "B" cds, written by Roque Lyons (addressed to himself) who was until 31st December 1906 the Gibraltar Postal Agent in Tangier after refusing the appointment of Chief Clark, and instead expanded his existing business as a stamp dealer, and since the cover doesn't include the 12p on 10s it's quite likely because it wasn't available in Tangier at the time, a very attractive and extremely rare first day cover with only two known, ex Burrus (lot 356, 20th May 1964) and Driffield.
Please note that we are still working on adding images for the lots. If the lot you are interested in does not have images available yet, we invite you to check again in a few days.
If you still cannot find the images you are looking for in a few days, please send us a message. Important: don't forget to mention the lot number(s).
Thank you for your understanding.