Lot 20045 –
CERNETI: 1836 (1.10) Folded entire to Bucharest, bearing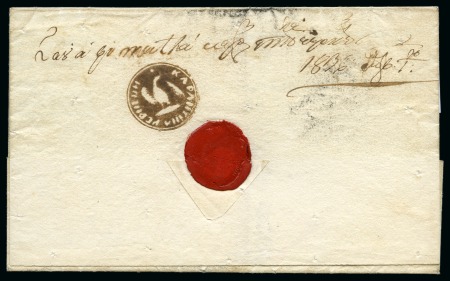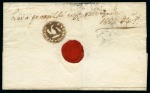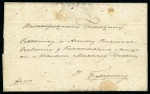 Lot 20045 –
CERNETI: 1836 (1.10) Folded entire to Bucharest, bearing
Romania » Postal History » Disinfected Mail
Price realised
To be published
Estimate
2'000 – 3'000 EUR
Auction date
Wed 5 Jun 2019 at 10:00 (Europe/Zurich)
CERNETI: 1836 (1.10) Folded entire to Bucharest, bearing clear 1830 type quarantine negative seal of the CERNETI, with usual rastel holes, with remarks, date and signature of the quarantine station alongside (Dragomir type K30 – 10R; see # 3 page 55), a fine strike and extremely rare
Note: Full translation of the document may be viewed on line
Front:
To the Honorable lord Council and agent of the Serbian Principality in the
Principality of Moldavia and Wallachia Michail German in Bucharest
Back: It was fumigated at the Cernet quarantine 1836 October 1st
Please note that we are still working on adding images for the lots. If the lot you are interested in does not have images available yet, we invite you to check again in a few days.
If you still cannot find the images you are looking for in a few days, please send us a message. Important: don't forget to mention the lot number(s).
Thank you for your understanding.