Lot 20042 –
BRALIA: 1856 Large three page "Bilet De Exportarea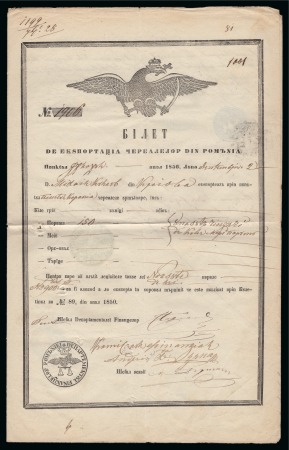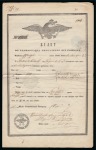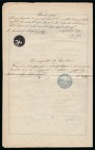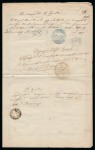 Lot 20042 –
BRALIA: 1856 Large three page "Bilet De Exportarea
Romania » Postal History » Disinfected Mail
Auction date
Wed 5 Jun 2019 at 10:00 (Europe/Zurich)
BRALIA: 1856 Large three page "Bilet De Exportarea Cerealelor din Romania" (Ticket for Exportation of Cereals from Romania) disinfected document bearing negative quarantine stamp "Principality of the Country of Romania – Quarantine of the Braila Harbor" and a clear negative quarantine stamp "Point Islaz 1836", dated September 2, 1856 (Dragomir type K24 – 4R, pg 25; see # 155 page 58 + Dragomir type K36 – 1.5R; see # fig 151 on page 58), rare combination of two negative quarantine seals
Note: Full translation of the document may be viewed on line
No 81
1001 TICKET 1906
FOR EXPORTATION OF CEREALS FROM ROMANIA
Point Izlazu year 1856 month of September 2
Mr. Mihail Kulauv of Kraiova exports through Korabia (customs point)
the following cereals but (?):
Kgs wheat bushels meaning
– Corn 150 –
– Millet –
– Barley –
– Bran – one hundred fifty chile (*)… of corn
For which the legal taxes of nine hundred lei ……. parale were paid
No. 900 will be allowed to export within the period of time as
published in the Bulletin No. 89 of the year 1850.
Under Chief of the Finance Department (signature)
(printed stamp reading: "Department of Finance of Romania"
manuscript: Finance Komisar
Andrei (illegible)
Section chief (signature)
ON THE REVERSE (five manuscript notations):
The first notation reads: "Point Izlazu
The amount of one hundred fifty chile of corn mentioned in this ticket
was exported through this point to Braila as the lawful tax of nine
hundred lei was paid to the Finance Komisar.
S(ignature): Lieutenant Mavrocordat year 1856 Septem., Nr. 168"
followed by a Clear negative quarantine stamp "Point Islaz 1836" –
Kiriak K36 (pg. 56 and pg. 58 fig. 151 – 1.5R)
Four other notations follow, all done in Braila, in October 1856 and
bearing the following negative stamps:
The second and the third notation:
"Komisar of Braila Point – Department of Finance"
The fourth notation ends with a pale, negative quarantine stamp:
"Principality of the Country of Romania – Quarantine of the
Braila Harbor" – Kiriak K24 (pg. 58 fig 155 and pg. 59 – 4R)
The stamp of the fifth notation looks similar to the first one, but it is
illegible
(*) chila = archaic measure unit for grains, equivalent to approx. 500 kg.
Please note that we are still working on adding images for the lots. If the lot you are interested in does not have images available yet, we invite you to check again in a few days.
If you still cannot find the images you are looking for in a few days, please send us a message. Important: don't forget to mention the lot number(s).
Thank you for your understanding.