Lot 20028 –
RIMNIKU SARAT: 1842 Postal manuscript (16.8) bearing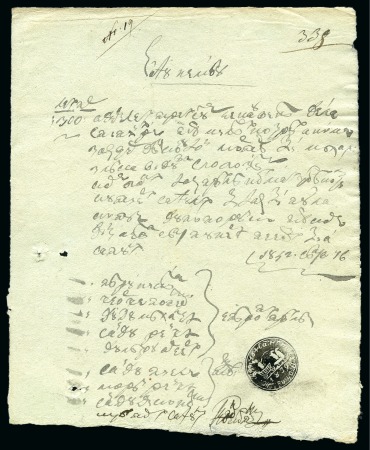 Lot 20028 –
RIMNIKU SARAT: 1842 Postal manuscript (16.8) bearing
Romania » Postal History » Principality of Wallachia » Cyrillic Post Handstamps
Auction date
Wed 5 Jun 2019 at 10:00 (Europe/Zurich)
RIMNIKU SARAT: 1842 Postal manuscript (16.8) bearing a very clear decorative negative seal depicting postal coach pulled by two horses, coachman cracking the whip and the year 1839 underneath, surrounded by Cyrillic inscription indicating Rimniku Sarat postal station (on the postal road # 1, Bucharest – Foksani; see Dragomir, page 25), rare
Note: Wallachian post station seals before 1841 are not yet described in the philatelic literature and are seldom seen on the philatelic market. The seal has the following inscription: "Sat Nemoiu, p(lasa) Oltu, j(udetul) Valcea" = "Nemoiu village, Oltu district, Vilcea county" sat = village plasa = an administrative unit comrising several citie and villages, equivalent to "district" judet = an administrative unit roughly equivalent to "county". The document confirms receipt from the government of three hundred lei and is signed by five epitropi (church administrators: Petru Capitan, Gheorghe Popescu, Dudu Mihalcea, Sandu Renghea, Dumitru Angheri) and trei vatafi (county administrators: Sandu Piele, Marin Renghea, Sandu Diaconescu).
Please note that we are still working on adding images for the lots. If the lot you are interested in does not have images available yet, we invite you to check again in a few days.
If you still cannot find the images you are looking for in a few days, please send us a message. Important: don't forget to mention the lot number(s).
Thank you for your understanding.