Lot 20019 –
1861 (8.9) Ticket (Blanket): Long decorative pre-printed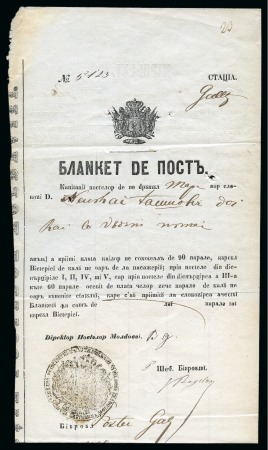 Lot 20019 –
1861 (8.9) Ticket (Blanket): Long decorative pre-printed
Romania » Postal History » Principality of Moldavia
Auction date
Wed 5 Jun 2019 at 10:00 (Europe/Zurich)
1861 (8.9) Post Ticket (Post Blanket) Long, decorative pre-printed form with the coat of arms of Moldavia atop and "Galatz Station" in manuscript, ordering to the post captains of the Main Route (Drumul Mare) to release two horses to Mr. Neculai Tascola for travel to Vadeni. It bears a large circular seal ornated with the coat of arms of The United Principalities and reading "UNITED PRINCIPALITIES OF MOLDAVIA AND WALLACHIA FINANCE DEPARTMENT OF MOLDAVIA". On the reverse the document bears the names and the signatures and dates of all the post captains on the route – very fine, attractive and scarce
Note: full translation of the document may be viewed on line.
Coat of Arms of Moldavia
POST TICKET 23 (manuscript)
Post captains of the "Drumul Mare" shall release two horses to Mr. Neculai Tascola only up to Vadeni, with the
horse payment to be calculated at the Treasury rate of 90 parale, per horse per hour to be received from the
passenger; for the post districts I, II, IV and V, and for the post district III, 60 each, in addition to the payment of ten
parale per horse per hour owed to the state and which was received at the release of this ticket in the sum of
(blank) lei (blank) parale again Treasury
rate.
Director of the Posts of Moldavia (signature) Bureau Chief
(signature)
Black, round stamp (United Principalities of Moldavia and Walachia Finance Department of Moldavia)
Post Bureau Galatzi
No. 5023
Month of September, day 8 year 861
PE REVERS:
March-Route
From Galatz to Vadeni only
Post Distance from one station Number of Payment Confirmation of receipt of
funds
Name to another in hours Horses Lei Par. and passage through
stations
Galatz 1 hour 2 4 20 Payment for two horses was
Vadeni received to Vadeni only.
only (signature) Alecu 861 Sept 8.
Please note that we are still working on adding images for the lots. If the lot you are interested in does not have images available yet, we invite you to check again in a few days.
If you still cannot find the images you are looking for in a few days, please send us a message. Important: don't forget to mention the lot number(s).
Thank you for your understanding.