Lot 20016 –
1858 (27.7) Blanket (Ticket) from Jassy to Tirgu Neamtz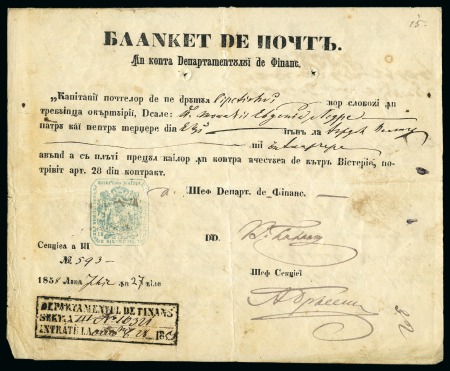 Lot 20016 –
1858 (27.7) Blanket (Ticket) from Jassy to Tirgu Neamtz
Romania » Postal History » Principality of Moldavia
Auction date
Wed 5 Jun 2019 at 10:00 (Europe/Zurich)
1858 (27.7) Post Ticket (Post Blanket): Decorative pre-printed form ordering to the post captains of the Siretului Route (Drumul Siretului) to release four horses to his lordship Ismocatii Evghenie Negre for travel from Jassy to Tirgu Neamtz and back. Green octagonal handstamp dated 1857 with Moldavian coat of arms and inscribed "VOGORIDI KAIMAKAM (*) OF THE PRINCIPALITY OF MOLDAVIA PRINCE NIKOLAI KONACHI", plus Finance Department boxed cachet in black. On the reverse the documents bears the names and the signatures and dates of all the post captains on the route – very fine, attractive and scarce
(*) the "kaimakam" was a Lieutenant of the Prince, appointed by the Ottoman Porte, during the throne vacancy – in this case Vogoridi was acting as kaimakam for the unavailable prince Nikolai Konachi
Note: Full translation of the document may be viewed on line.
POST TICKET
For the account of the Treasury Department
Post captains of the "Drumul Siretului" for the benefit of the Administration, shall release four horses and to his
Lordship Ismocatii Evghenie Negre for travel from Jassy to Tirgu Neamtz and back, with the horse payment
from his account with the Treasury, according to art. 28 of the contract.
(greenish square stamp with the Coat of Arms of Moldavia and the inscription: "VOGORIDI* KAIMAKAM OF THE
PRINCIPALITY OF MOLDAVIA PRINCE NIKOLAI KONACHI, 1857) (*)
Chief of Finance Dept.
Section III D.D. (signature)
No. 593 Section Chief
1858, month of July, 27th day (signature)
Black square stamp:
"Finance Department
Section III, No 10321
Entered on Aug 28, 1858" 32 (manuscript)
ON REVERS: signatures of the post captains on the itinerary
The present Blanket having received the approval of the Chancellery of the Post Directorate, horses shall be
released for tomorrow upon presentation and after the voyage is completed shall be returned to the Directorate.
858 July 27
(signature))
Jassy station passed as approved by the post Chancellery July 28 Cristesti station passed to Nisiporesti for
return
(signature) 1858 Sept. 23.(signature)
Totoesti passed to tr. (Tirgul) Frumos 858 July 28 Horses were given according to the coach
weight (signature) Dumitrescu 23 Sept. (signature)
(signature) (signature) 858 sep 1
T. (Tirgul) Frumos avizat Nisiporesti passed Sept. 23
(signature) Apostu July 28-858 (illegible line)
Mircesti passed to Nisiporesti (on) 858 July 28 Mircesti returned to Jassy
(signature) (signature) 858 Sep 23
Nisiporesti passed to Cristesti (signature) 858 July 28 Terg. (Tirgul) Frumos avizat Sept 23-
1858
Cristesti passed to Dragusani (signature) (signature)
(*) the "kaimacam" was a Lieutenant of the Prince during the throne vacancy – in this case Vogoridi was acting as
kaimakam for the unavailable Prince Nikolai Konachi.
Please note that we are still working on adding images for the lots. If the lot you are interested in does not have images available yet, we invite you to check again in a few days.
If you still cannot find the images you are looking for in a few days, please send us a message. Important: don't forget to mention the lot number(s).
Thank you for your understanding.