Lot 20012 –
1855 (10.2) Ticket (Blanket): Decorative pre-printed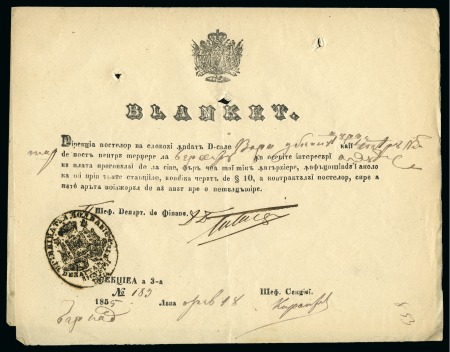 Lot 20012 –
1855 (10.2) Ticket (Blanket): Decorative pre-printed
Romania » Postal History » Principality of Moldavia
Auction date
Wed 5 Jun 2019 at 10:00 (Europe/Zurich)
1855 (10.2) Post Ticket (Post Blanket): Pre-printed form decorated with the Moldavian coat of arms, instructing the Post Directorate to immediately release eight small post horses to Vornic (archaic boyar title) Kari Ulencu Giurge to go to Berheciu for his own interests. The document bears a large, oval black seal with the Moldavian coat of arms and reading "Principality of Moldavia, Treasury Department, 1855" – very fine, attractive and scarce
Note: full translation of the document may be viewed on line.
Document translation:
Moldavian Coat of Arms
TICKET.
The post Directorate shall immediately release to his lordship vor(nic) Kari Ulencu Giurge four big post horses for travelling to Berheciu on his own interests with payment from himself without the smallest delay also to be presented to him there and in all stations is the register required by the art. 10 of the post contract so it could be shown whether the traveler had any complains.
Chief of the Finance Department (signature)
(oval stamp: Principality of Moldavia, Treasury Department, 1854)
Section 3
No. 183 Section Chief
1855 month of February 10 (signature) Karanfil
Barlad (manuscript)
853 (manuscript)
Please note that we are still working on adding images for the lots. If the lot you are interested in does not have images available yet, we invite you to check again in a few days.
If you still cannot find the images you are looking for in a few days, please send us a message. Important: don't forget to mention the lot number(s).
Thank you for your understanding.