Lot 20004 –
1842 (29.3) Postal order (Inam): Decorative, pre-printed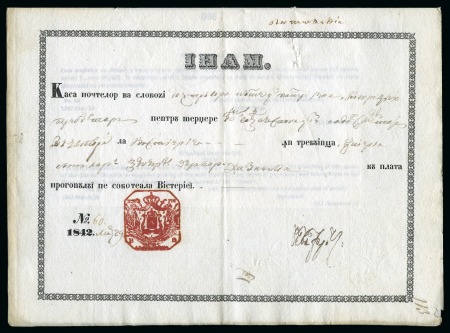 Lot 20004 –
1842 (29.3) Postal order (Inam): Decorative, pre-printed
Romania » Postal History » Principality of Moldavia
Auction date
Wed 5 Jun 2019 at 10:00 (Europe/Zurich)
1842 (29.3) Postal order (Inam): Decorative, pre-printed form requesting Casa Postelor (Post House) to make four horses and a coach available to Mr. Sames of the of county (Sames: archaic for an employee tasked with collecting the taxes). It bears a large, ornate octagonal seal showing Moldavian coat of arms – very fine, attractive and scarce. Atop of the document the manuscript word "Botushani"
Note: full translation of the document may be viewed on line.
Document translation:
Botoshani (manuscript)
INAM
The post house shall release a coach with four horses and the necessary horsemen for the travelling of Mr. sames of this district (illegible writing) for picking of the sami (bookkeeping tables of payments) and taking them to the Director of the Treasury with the payment on the account of the Treasury.
No. 60 (red, square stamp with the Moldavian coat of arms))
1842 March 29 (signature)
113 (manuscript)
Please note that we are still working on adding images for the lots. If the lot you are interested in does not have images available yet, we invite you to check again in a few days.
If you still cannot find the images you are looking for in a few days, please send us a message. Important: don't forget to mention the lot number(s).
Thank you for your understanding.