Lot 20001 –
1841 (11.7) Postal coach order (Podorojne) showing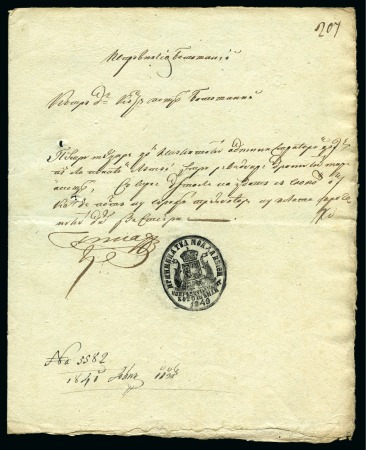 Lot 20001 –
1841 (11.7) Postal coach order (Podorojne) showing
Romania » Postal History » Principality of Moldavia
Auction date
Wed 5 Jun 2019 at 10:00 (Europe/Zurich)
1841 (11.7) Postal coach order (Podorojna): Manuscript calligraphed in Cyrillic on thick, woven paper by the Ispravnicie (administration) of the Botswana County directing the Captain of the Botushani Post to make horses and coachmen available for an review of the Drumul Mare postal route. Document shows a large ornate decorative black seal reading "Ispravnicia of the Botushani County, Principality of Moldavia, 1840". A superb and clear strike, a rare document not yet seen on the philatelic market
Note: full translation of the document may be viewed on line.
Ispravnicia (administration) of Botosani
Numbered: "207"
To his lordship the captain of the Botosani Post
In order that the undersigned administrator may go …. to Latai point (crossing point to Austria) to review the Drumul Mare postal route, we write to you to immediately release eight postal horses and the needed coachmen, with the payment to be made by the Treasury.
(signature)/No. 5582, 1841, the 11th day of July
(seal) Principality of Moldavia, Ispravnicia of the Botosani County, 1840
Please note that we are still working on adding images for the lots. If the lot you are interested in does not have images available yet, we invite you to check again in a few days.
If you still cannot find the images you are looking for in a few days, please send us a message. Important: don't forget to mention the lot number(s).
Thank you for your understanding.