Lot 51049 –
1849ca Two covers sent from Valparaiso, to Santiago, both sent at a basic letter rate of "2" reales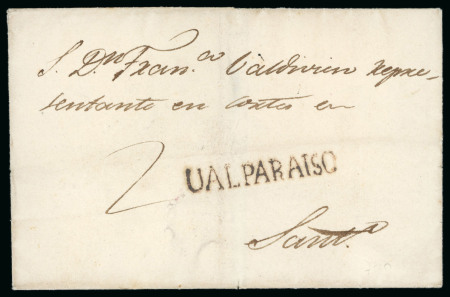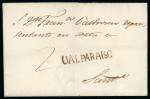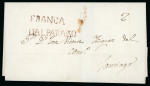 Lot 51049 –
1849ca Two covers sent from Valparaiso, to Santiago, both sent at a basic letter rate of "2" reales
Chile » Postal History
Auction date
Thu 16 Jun 2022 at 14:00 (Europe/Zurich)
1849ca Two covers sent from Valparaiso, to Santiago, both sent at the letter rate of "2" reales, showing good to very fine strikes of the straight line "Ualparaiso" hs in black and red-black (S.F.C. MPF48a-1) normally only found in red, one addressed to Vicente Íñiguez, a merchant in the plaza, which has a "Franca" hs in red also to front, the other addressed to Francisco Valdivieso, a lawyer and deputy Chillán, one cover has a horizontal filing crease but both fine and scarce.
Please note that we are still working on adding images for the lots. If the lot you are interested in does not have images available yet, we invite you to check again in a few days.
If you still cannot find the images you are looking for in a few days, please send us a message. Important: don't forget to mention the lot number(s).
Thank you for your understanding.