Lot 51040 –
1815ca Cover to Santiago with "Balparaiso" (S.F.C. MPF48) to Rafael Beltrán Iñiguez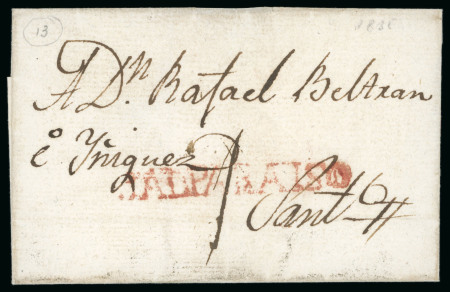 Lot 51040 –
1815ca Cover to Santiago with "Balparaiso" (S.F.C. MPF48) to Rafael Beltrán Iñiguez
Chile » Postal History
Auction date
Thu 16 Jun 2022 at 14:00 (Europe/Zurich)
1815ca. Cover to Santiago with "Balparaiso" straight line in red (S.F.C. MPF48), with the "1" reales rate applied before 1818. The letter was addressed to Rafael Beltrán Íñiguez, Spanish Royalist who after the disaster of Rancagua was appointed member of the Council of Santiago by General Osorio; after Chacabuco, he left for Peru and returned with a Spanish Fleet to Concepción supporting the march of the Royalist to Santiago (he would be captured after the victory of Maipú and would lose all his belongings, but he would remain in Chile).
Please note that we are still working on adding images for the lots. If the lot you are interested in does not have images available yet, we invite you to check again in a few days.
If you still cannot find the images you are looking for in a few days, please send us a message. Important: don't forget to mention the lot number(s).
Thank you for your understanding.