Lot 51027 –
1802 (Nov 18) Cover sent to Jose Trucio (an important Royalist) in Santiago "Balparaiso" straight line hs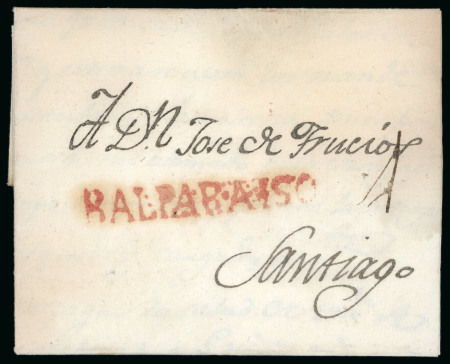 Lot 51027 –
1802 (Nov 18) Cover sent to Jose Trucio (an important Royalist) in Santiago "Balparaiso" straight line hs
Chile » Postal History
Auction date
Thu 16 Jun 2022 at 14:00 (Europe/Zurich)
1802 (Nov 18). Entire letter sent to José Trucio (an important Royalist) in Santiago, charged "1" real manuscript, with a slightly over-inked "Balparaiso" straight line hs in red (S.F.C. MPF48-1) to front. A scarce dated colonial letter.
Please note that we are still working on adding images for the lots. If the lot you are interested in does not have images available yet, we invite you to check again in a few days.
If you still cannot find the images you are looking for in a few days, please send us a message. Important: don't forget to mention the lot number(s).
Thank you for your understanding.