Lot 51026 –
1800ca (Mar 26) Cover front sent to Valdivia from C, addressed to Lieutenant Juan Clark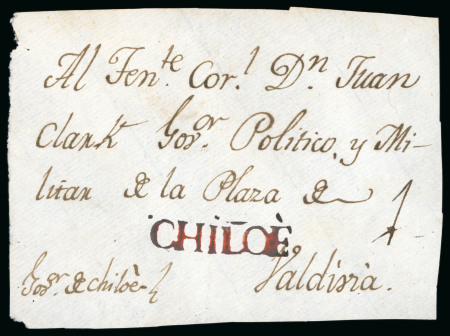 Lot 51026 –
1800ca (Mar 26) Cover front sent to Valdivia from C, addressed to Lieutenant Juan Clark
Chile » Postal History
Auction date
Thu 16 Jun 2022 at 14:00 (Europe/Zurich)
1800ca (Mar 26) Cover front sent to Valdivia from C, addressed to Lieutenant Juan Clark, Political and Military Governor of the Plaza de Valdivia (Clark held this post between 1795 and 1807), showing very fine strike in red-black of the "Chiloé" straight line hs (S.F.C. MPF17a), charged the single letter rate of 1 real for post traveling by sea indicated by a "1" manuscript mark, scarce mailing.
Please note that we are still working on adding images for the lots. If the lot you are interested in does not have images available yet, we invite you to check again in a few days.
If you still cannot find the images you are looking for in a few days, please send us a message. Important: don't forget to mention the lot number(s).
Thank you for your understanding.