Lot 51018 –
1790ca Cover sent to Valdivia from Valparaiso, charged at "40" reales which was for items up to 10 ounces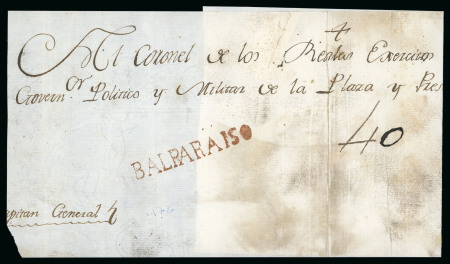 Lot 51018 –
1790ca Cover sent to Valdivia from Valparaiso, charged at "40" reales which was for items up to 10 ounces
Chile » Postal History
Auction date
Thu 16 Jun 2022 at 14:00 (Europe/Zurich)
1790ca Cover sent to Valdivia from Valparaiso, addressed to Mariano Pustela Governor of Valdivia, sent by the Captain General or Governor of Chile, charged at "40" reales which was for items up to 10 ounces, showing a superb strike of the "Balparaiso" straight line hs in red (S.F.C. MPF48-1); very rare high value rate and impressive cover front.
Please note that we are still working on adding images for the lots. If the lot you are interested in does not have images available yet, we invite you to check again in a few days.
If you still cannot find the images you are looking for in a few days, please send us a message. Important: don't forget to mention the lot number(s).
Thank you for your understanding.