Lot 51016 –
1911-38 Cover lot of eleven postage due mail sent to Switzerland from Brazil, including one 1916 censor mail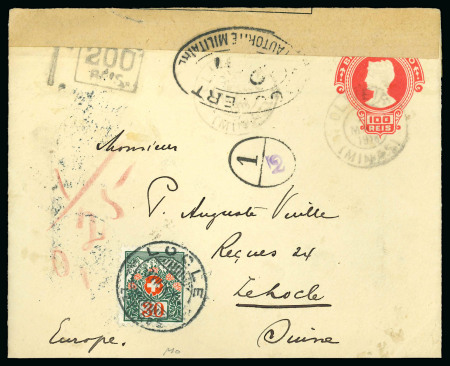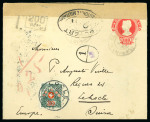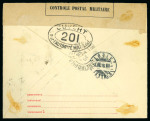 Lot 51016 –
1911-38 Cover lot of eleven postage due mail sent to Switzerland from Brazil, including one 1916 censor mail
Brazil
Auction date
Thu 16 Jun 2022 at 14:00 (Europe/Zurich)
1911-38 Cover lot of eleven postage due mail sent to Switzerland from Brazil, including 1911 envelope to St Gallen, franked on the reverse with 400 reis made up with 11 stamps, tied by Rio Grande cds, the two 1c Switzerland postage dues being placed within the configuration and tied by cds (philatelic), some climatic toning, and censor mail, 1916 100r rose stationery envelope, underpaid by 200r, with "Controle Postal Militaire" tape and 30c postage due tied by Locle cds, a good selection, with scarcer usages.
:
Scott 174, 175, 176, 191
Please note that we are still working on adding images for the lots. If the lot you are interested in does not have images available yet, we invite you to check again in a few days.
If you still cannot find the images you are looking for in a few days, please send us a message. Important: don't forget to mention the lot number(s).
Thank you for your understanding.