Lot 51008 –
1891 10c on piece used on 9 Sept. 1891, the latest recorded use of a Popper stamp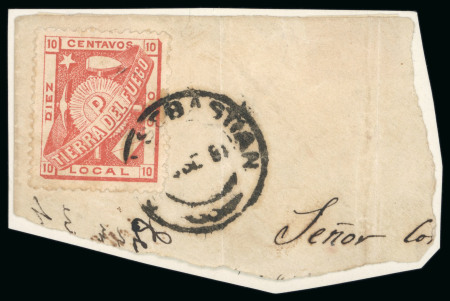 Lot 51008 –
1891 10c on piece used on 9 Sept. 1891, the latest recorded use of a Popper stamp
Argentina » Tierra del Fuego
Auction date
Thu 16 Jun 2022 at 14:00 (Europe/Zurich)
1891 10c red, tied to piece by "San Sebastián" cds in September 1891. In addition to four covers, the only piece known used with this cancellation. Illustrated by Brian Moorhouse in his handbook on page 52, and described as: "This piece was illustrated by Eugene Klein in s short article in the 'Collectors Club Philatelist' Vol. XI No. 3 of July 1932 (…). The date would appear to be '9 SE 91' with just a two letter month abbreviation. If this date is accurate then this would make it the latest recorded use of a Popper stamp", ex Worthington.
Please note that we are still working on adding images for the lots. If the lot you are interested in does not have images available yet, we invite you to check again in a few days.
If you still cannot find the images you are looking for in a few days, please send us a message. Important: don't forget to mention the lot number(s).
Thank you for your understanding.