Lot 51007 –
1900-38 Cover lot of 34 postage due items to Switzerland from Argentina, a selection of illustrated stationery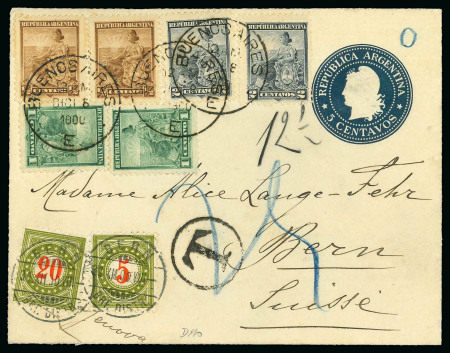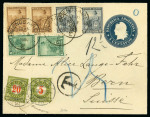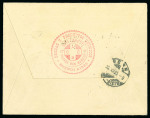 Lot 51007 –
1900-38 Cover lot of 34 postage due items to Switzerland from Argentina, a selection of illustrated stationery
Argentina
Auction date
Thu 16 Jun 2022 at 14:00 (Europe/Zurich)
1900-38 Cover lot of 34 postage due examples, sent to Switzerland from Argentina, with a selection of printed illustrated stationery cards and envelopes, commercial mail, post cards, including many scarce combination frankings, with tax markings and postage due stamps fixed on arrival, including 1901 Republic of Argentina 5c orange stationery envelope, uprated with pair of 2c and a 5c, sent to La Chaux-de-Fonds, with 5c postage due tied by cds "EXP. LETTR", also attractive 1901 2c printed colour card, sent from Buenos Aires, with additional 1c, with 10c and two 50c postage dues tied by Basle cds, and 1900 5c blue stationery envelope with additional 7c, a prepaid 12c for inland mail, deficient by 5c, charged 25c in Switzerland, with 20c and 5c postage dues tied by Bern cds, fine condition throughout, many interesting and scarce items; further review will undoubtedly reveal rare material.
Please note that we are still working on adding images for the lots. If the lot you are interested in does not have images available yet, we invite you to check again in a few days.
If you still cannot find the images you are looking for in a few days, please send us a message. Important: don't forget to mention the lot number(s).
Thank you for your understanding.