Lot 51005 –
1874 & 1875 Pair of envelopes incl. 1875 underpaid cover with Italian postage dues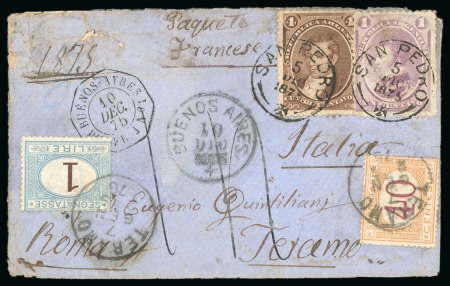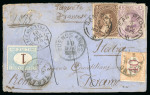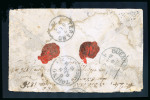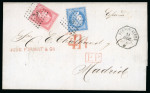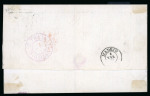 Lot 51005 –
1874 & 1875 Pair of envelopes incl. 1875 underpaid cover with Italian postage dues
Argentina
Auction date
Thu 16 Jun 2022 at 14:00 (Europe/Zurich)
1874 & 1875 Pair of envelopes: 1875 (Dec 5). Envelope from San Pedro to Italy paying internal rate with 1873 1c purple and 4c brown tied by dispatch cds, French octagonal "BUENOS-AYRES/PAQ. FR. J N°1" ds and conveyed by the "Niger", taxed "14" with Italian dues 40c and 1l on arrival, some faults to cover, scarce; and French P.O. 1874 (Dec 11) Folded cover to Madrid with mixed Empire 80c and Cérès 25c, each tied by neat anchor lozenge, with "BUENOS-AYRES" octagon, charged in red with "4R" on delivery, Lisbon and Madrid bs, very fine.
Please note that we are still working on adding images for the lots. If the lot you are interested in does not have images available yet, we invite you to check again in a few days.
If you still cannot find the images you are looking for in a few days, please send us a message. Important: don't forget to mention the lot number(s).
Thank you for your understanding.