Lot 51004 –
1870 (March 28) "Revista Comercial" newspaper from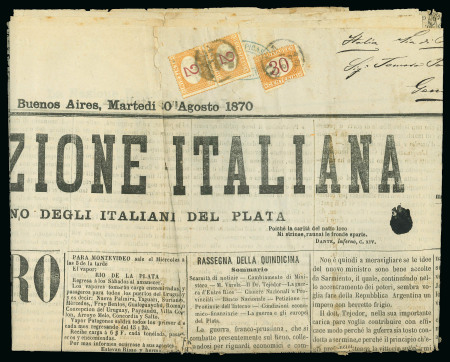 Lot 51004 –
1870 (March 28) "Revista Comercial" newspaper from
Argentina
Auction date
Thu 16 Jun 2022 at 14:00 (Europe/Zurich)
1870 (Aug 30) "Nazione Italiana – Organo degli Italiani del Plata" newspaper from Buenos Aires to Genoa, taxed on arrival at double weight rate up to 80 grams with involvement of French ship, collected with 1870-74 2c pair and 30c (defective), tied by Genoa cds's; a rare transatlantic usage. Ex Astolfi.
Please note that we are still working on adding images for the lots. If the lot you are interested in does not have images available yet, we invite you to check again in a few days.
If you still cannot find the images you are looking for in a few days, please send us a message. Important: don't forget to mention the lot number(s).
Thank you for your understanding.