Lot 21129 –
1922-1950 Cirenaica. Collezione avanzata formata da oltre 160 pezzi nuovi ed usati, montati in 11 pagine d'album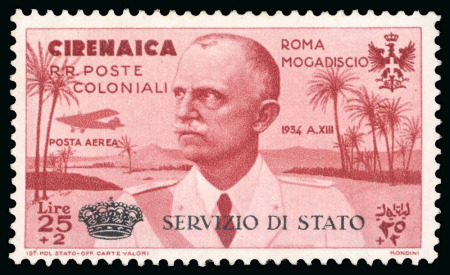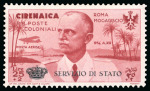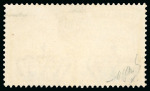 Lot 21129 –
1922-1950 Cirenaica. Collezione avanzata formata da oltre 160 pezzi nuovi ed usati, montati in 11 pagine d'album
Italy » Italian Areas – Lots and Collections
Auction date
Tue 14 Jun 2022 at 09:30 (Europe/Zurich)
Cirenaica: 1922-1950, collezione avanzata formata da oltre 160 pezzi nuovi ed usati, montati in 11 pagine d'album. Notata 1934 Servizio Aereo "coroncina" firmata Bloch. Sono presenti Posta ordinaria e servizi, qualità in genere buona ad ottima.
1922-50 Cyrenaica: Unused & used selection neatly presented on eleven album pages, better items included 1934 Airmail Official 25L on 2L carmine-brown, mint, signed Bloch, plus useful airmails and postage dues, etc., good deal of completion, mixed to very fine (160+ unused & used)
Please note that we are still working on adding images for the lots. If the lot you are interested in does not have images available yet, we invite you to check again in a few days.
If you still cannot find the images you are looking for in a few days, please send us a message. Important: don't forget to mention the lot number(s).
Thank you for your understanding.