Lot 20096 –
Unico caso noto di corrispondenza per l'estero prima del 10.1.44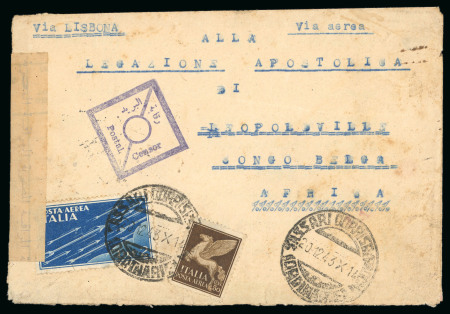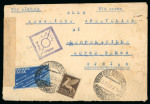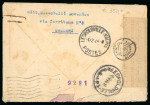 Lot 20096 –
Unico caso noto di corrispondenza per l'estero prima del 10.1.44
Italy » Regno del Sud
Auction date
Tue 14 Jun 2022 at 09:30 (Europe/Zurich)
1943, lettera del 20.12 da Sassari per Leopoldville (Congo Belga), via Lisbona ed Egitto, dove viene anche censurata, affr. per il doppio porto con 50 c. e 2 l. di posta aerea. Unico caso noto di corrispondenza per l'estero prima del 10.1.44 (quando i collegamenti postali furono riaperti dal Governo Militare Alleato).
Please note that we are still working on adding images for the lots. If the lot you are interested in does not have images available yet, we invite you to check again in a few days.
If you still cannot find the images you are looking for in a few days, please send us a message. Important: don't forget to mention the lot number(s).
Thank you for your understanding.