Lot 20093 –
Ariano Polesine. Lettera affrancata con con 25 c., 75 c. ed 1 l., e busta in franchigia del CLN d'Asti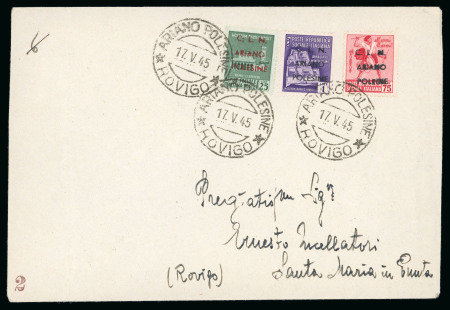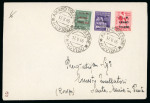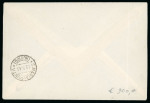 Lot 20093 –
Ariano Polesine. Lettera affrancata con con 25 c., 75 c. ed 1 l., e busta in franchigia del CLN d'Asti
Italy » Emissioni Partigiane o C.L.N.
Auction date
Tue 14 Jun 2022 at 09:30 (Europe/Zurich)
Ariano Polesine. 1945, lettera del 17.5 da Ariano Polesine per Santa Maria in Punta, affrancata con 25 c., 75 c. ed 1 l. con la corrispondente soprastampa C.L.N., con bollo di arrivo al verso; inoltre una circolare del CLN d'Asti del 31.8.45 per Antignano, con bollo del Comitato usato come franchigia.
Please note that we are still working on adding images for the lots. If the lot you are interested in does not have images available yet, we invite you to check again in a few days.
If you still cannot find the images you are looking for in a few days, please send us a message. Important: don't forget to mention the lot number(s).
Thank you for your understanding.