Lot 10039 –
1pi rose-red, pair and two singles, all tied on registered envelope from Damietta to Cairo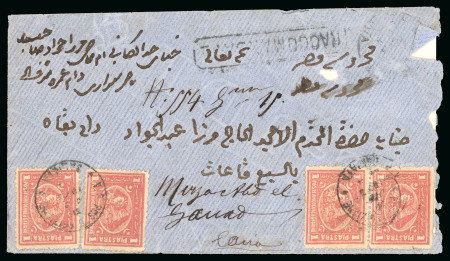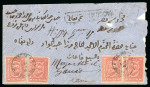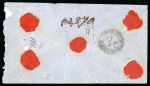 Lot 10039 –
1pi rose-red, pair and two singles, all tied on registered envelope from Damietta to Cairo
Egypt » 1872-75 Penasson
Auction date
Mon 13 Jun 2022 at 15:00 (Europe/Zurich)
1pi rose-red, pair and two singles, all tied on registered envelope from Damietta to Cairo, by V.R. POSTE EGIZIANE/DAMIATA/31.DIC.1873 cds, with boxed registration hs RACCOMANDATE alongside, plus POSTE KEDEVIE EGIZIANE/CAIRO arrival bs, some cover faults, an attractive registered usage.
Please note that we are still working on adding images for the lots. If the lot you are interested in does not have images available yet, we invite you to check again in a few days.
If you still cannot find the images you are looking for in a few days, please send us a message. Important: don't forget to mention the lot number(s).
Thank you for your understanding.