Lot 10023 –
5pa brown, perf. 12 1/2 x 13 1/3, mint and mint nh, top left corner sheet marginal block of twelve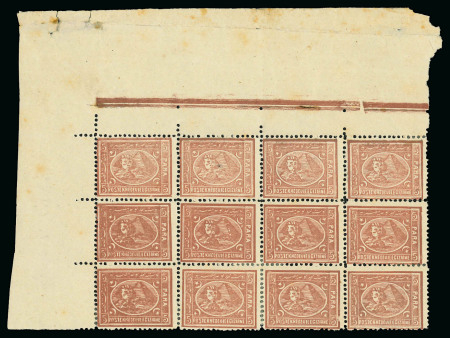 Lot 10023 –
5pa brown, perf. 12 1/2 x 13 1/3, mint and mint nh, top left corner sheet marginal block of twelve
Egypt » 1872-75 Penasson
Auction date
Mon 13 Jun 2022 at 15:00 (Europe/Zurich)
5pa brown, perf. 12 1/2 x 13 1/3, mint and mint nh, top left corner sheet marginal block of twelve, with border marking in the form of a thick coloured line on the top sheet margin, plus pos. 12 shows "holes in Pyramid", fresh, very fine and an extremely rare positional multiple.
A unique showpiece.
Please note that we are still working on adding images for the lots. If the lot you are interested in does not have images available yet, we invite you to check again in a few days.
If you still cannot find the images you are looking for in a few days, please send us a message. Important: don't forget to mention the lot number(s).
Thank you for your understanding.