Lot 70047 –
1840 (June) Pape, Gum and Cancellation trials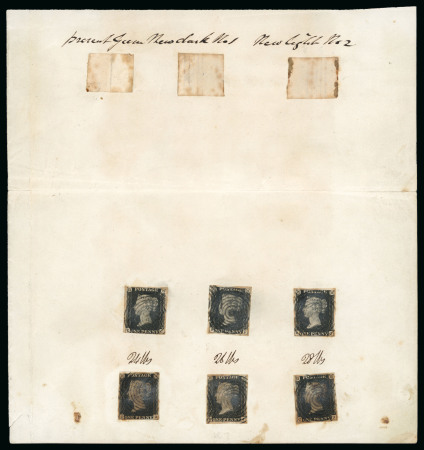 Lot 70047 –
1840 (June) Pape, Gum and Cancellation trials
Great Britain » Line Engraved Essays, Plate Proofs, Colour Trials and Reprints
Estimate
50'000 – 60'000 GBP
Auction date
Fri 9 Dec 2022 at 09:00 (Europe/Zurich)
1840 (June) Paper, Gum and Cancellation trials: A large sheet of paper (folded for display) bearing 6 1840 1d. blacks pl. 7, trial printings on the lighter weight paper the normal weight being 30lbs per ream), annotated as "24lbs" TC and TD, "26lbs" BC and BJ, and "28 lbs" CC and CJ in the hand of L.de Nicolas (Rowland Hills clerk), each cancelled by concentric circles cancellation, the lower three stamps of each weight with an overall brownish wash or varnish, which presumably formed part of the trial removal, the top of the sheet bearing three gummed paper samples with "present gum", "New dark No.1" and "New light No.2" in the hand of Joshua Bacon above. A very rare and desirable trial of major philatelic importance and major exhibition showpiece of which very few complete examples exist in private hands, cert. BPA (2010), ex Mayflower.
Please note that we are still working on adding images for the lots. If the lot you are interested in does not have images available yet, we invite you to check again in a few days.
If you still cannot find the images you are looking for in a few days, please send us a message. Important: don't forget to mention the lot number(s).
Thank you for your understanding.