Lot 70037 –
1840 2d Mulready envelope cancelled by a perfectly struck blue "Newington Butts / 2d PAID" receiving office handstamp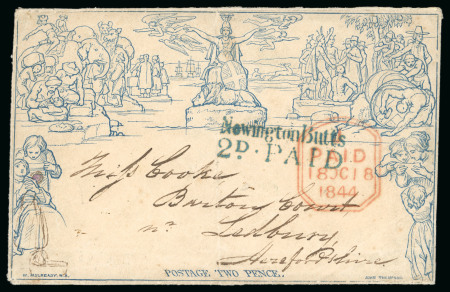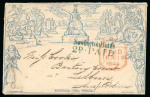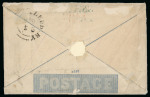 Lot 70037 –
1840 2d Mulready envelope cancelled by a perfectly struck blue "Newington Butts / 2d PAID" receiving office handstamp
Great Britain » 1840 Mulreadys & Caricatures
Estimate
8'000 – 10'000 GBP
Auction date
Fri 9 Dec 2022 at 09:00 (Europe/Zurich)
1840 2d Mulready envelope, forme 1 stereo a197, sent from London to Ledbury, beautifully cancelled by a perfectly struck blue "Newington Butts / 2d PAID" receiving office handstamp and a "PAID" tombstone ds, not cancelling Britannia hence contrary to regulations, arrival bs, with a little ink addition to the design by the sender and a note under he backflap which reds "I hope the postman will not steal this letter for the sake of the picture!", a very fine showpiece, ex Mayflower.
Please note that we are still working on adding images for the lots. If the lot you are interested in does not have images available yet, we invite you to check again in a few days.
If you still cannot find the images you are looking for in a few days, please send us a message. Important: don't forget to mention the lot number(s).
Thank you for your understanding.