Lot 70034 –
U.S.A: 1840 facsimile of the 1d. letter sheet, produced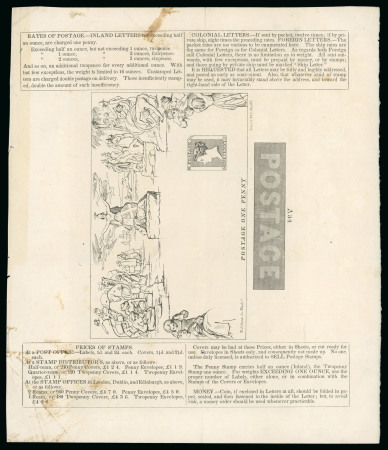 Lot 70034 –
U.S.A: 1840 facsimile of the 1d. letter sheet, produced
Great Britain » 1840 Mulreadys & Caricatures
Auction date
Fri 9 Dec 2022 at 09:00 (Europe/Zurich)
U.S.A: 1840 facsimile of the 1d letter sheet, produced as an essay for presentation to the U.S. Senate, in conjunction with "Mr Websters resolution dated June 10th 1840" relative to a reduction of the postage on letters; inscribed "Sen(ate). 1(st), S(ession) 26(th) C(ongress) no 547" at lower right of the design, including a copy of the resolution By Command W. L. Maberly, secretary, very rare; cert. BPA (1996).
Please note that we are still working on adding images for the lots. If the lot you are interested in does not have images available yet, we invite you to check again in a few days.
If you still cannot find the images you are looking for in a few days, please send us a message. Important: don't forget to mention the lot number(s).
Thank you for your understanding.