Lot 70025 –
1840 (Sep 19) 1d Mulready envelope, second series stereo A289, sent from Malborough to London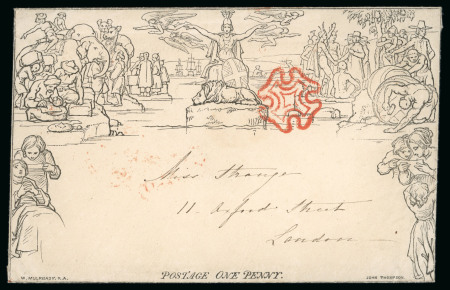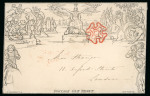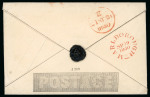 Lot 70025 –
1840 (Sep 19) 1d Mulready envelope, second series stereo A289, sent from Malborough to London
Great Britain » 1840 Mulreadys & Caricatures
Estimate
1'200 – 1'500 GBP
Auction date
Fri 9 Dec 2022 at 09:00 (Europe/Zurich)
1840 (Sep 19) 1d Mulready envelope, second series stereo A289, sent from Malborough to London, very fine Maltese Cross not cancelling Britannia (contrary to regulations), revere with crisp despatch and arrival ds, a superb example especially given that envelopes from the second series are all extremely rare.
Please note that we are still working on adding images for the lots. If the lot you are interested in does not have images available yet, we invite you to check again in a few days.
If you still cannot find the images you are looking for in a few days, please send us a message. Important: don't forget to mention the lot number(s).
Thank you for your understanding.