Lot 32016 –
All World: 1850s-73, Small classic group of 12 items (stamps and covers)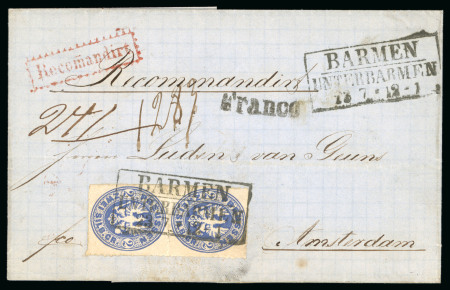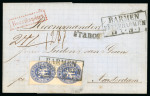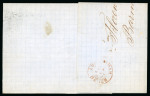 Lot 32016 –
All World: 1850s-73, Small classic group of 12 items (stamps and covers)
Large Lots and Collections
Auction date
Wed 7 Dec 2022 at 17:00 (Europe/Zurich)
All World: 1850s-73, Small classic group of 12 items, with covers from Brazil, Austria, Prussia and Italy, incl. Prussia 1865 three-colour franking to Paris tied by blue Berlin cds, 1867 cover sent registered with 2sgr vert. pair from Barmen, Austria 1867 cover from Trieste with 5k pair and two 3k, 1865 registered receipt with 10k , Brazil with 1850 30r black pair on cover and 60r single franking and two Italy 1860s/70s covers; and stamps incl. Belgium 1869 5F pale brown, British Crete 1898 20pa used, Turkey Duloz 1867 5pi rose strip of 6 with negative cancels and Netherlands Indies 10c (creased), an attractive group.
Please note that we are still working on adding images for the lots. If the lot you are interested in does not have images available yet, we invite you to check again in a few days.
If you still cannot find the images you are looking for in a few days, please send us a message. Important: don't forget to mention the lot number(s).
Thank you for your understanding.