Lot 51010 –
1924-33 1 1/2d Scarlet mint n.h. top marginal with variety "broken scroll" mint and 2d Grey-Black & Grey with variety "torn flag" with "Madame Joseph" forged cancel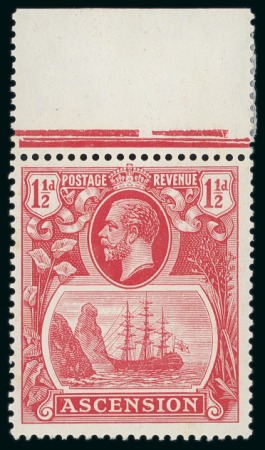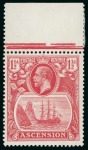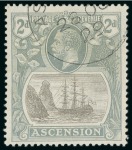 Lot 51010 –
1924-33 1 1/2d Scarlet mint n.h. top marginal with variety "broken scroll" mint and 2d Grey-Black & Grey with variety "torn flag" with "Madame Joseph" forged cancel
Ascension
Auction date
Thu 16 Dec 2021 at 13:00 (Europe/Zurich)
1924-33 1 1/2d scarlet mint n.h. top marginal showing variety "broken scroll", hinged in margin only, some faint tone patches on the gum, very fine (SG £180); and 2d grey-black & grey showing variety "torn flag" with "Madame Joseph" forged cancel at top, some minor discolouration, scarce.
Please note that we are still working on adding images for the lots. If the lot you are interested in does not have images available yet, we invite you to check again in a few days.
If you still cannot find the images you are looking for in a few days, please send us a message. Important: don't forget to mention the lot number(s).
Thank you for your understanding.