Lot 40038 –
1861, Enveloppe pour Moscou affranchissement Médaillons 10 centimes x5 et 40 centimes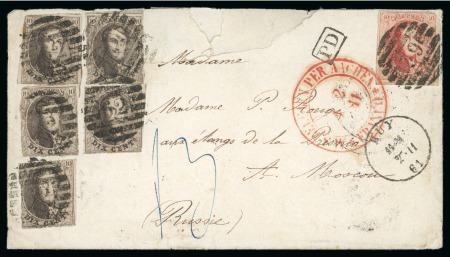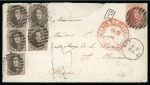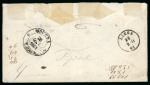 Lot 40038 –
1861, Enveloppe pour Moscou affranchissement Médaillons 10 centimes x5 et 40 centimes
Belgium
Estimate
2'000 – 3'000 EUR
Auction date
Wed 15 Dec 2021 at 09:00 (Europe/Zurich)
1861 Enveloppe pour Moscou affranchissement Médaillons 10 centimes x5 et 40 centimes, oblitération "62" avec à côté cachet à date du 2 novembre de Huy, cachet d'arrivée russe, de petits défauts qui n'enlèvent rien à la très grande rareté de cette destination.
1861, Envelope to RUSSIA with Medaillon 40c + 10c (X5) cancelled HUY 2/11 61, with Russian arrival cancel, small faults but extremely rare destination
Please note that we are still working on adding images for the lots. If the lot you are interested in does not have images available yet, we invite you to check again in a few days.
If you still cannot find the images you are looking for in a few days, please send us a message. Important: don't forget to mention the lot number(s).
Thank you for your understanding.