Lot 10000 –
Essay in pen and ink of the Queen´s head in solid black oval surround, executed on thick card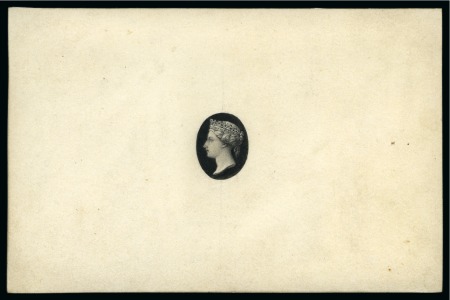 Lot 10000 –
Essay in pen and ink of the Queen´s head in solid black oval surround, executed on thick card
St. Vincent
Estimate
4'000 – 6'000 GBP
Auction date
Tue 30 Jun 2020 at 10:00 (Europe/Zurich)
Essay in pen and ink of the Queen´s head in solid black oval surround, executed on thick card (120x79mm.), a wonderful and most delightful piece of artwork, showpiece for the connoisseur
Note: Early in 1860 Perkins, Bacon & Co. commissioned a new Queen Victoria head for use on postage stamps. This was engraved for the firm by Charles H. Jeens, who prepared a pen-drawn miniature for the purpose. His account of £2/12/6d. for the drawing was dated April 1860. Used for St. Vincent, St. Lucia and the South Australia 9d.
Provenance: R.B. Yardley Dr. Stone, Peter Jaffé
Please note that we are still working on adding images for the lots. If the lot you are interested in does not have images available yet, we invite you to check again in a few days.
If you still cannot find the images you are looking for in a few days, please send us a message. Important: don't forget to mention the lot number(s).
Thank you for your understanding.