Lot 10155 –
UNIQUE USAGE OF THE BAGERI ISSUE TO A FOREIGN DESTINATION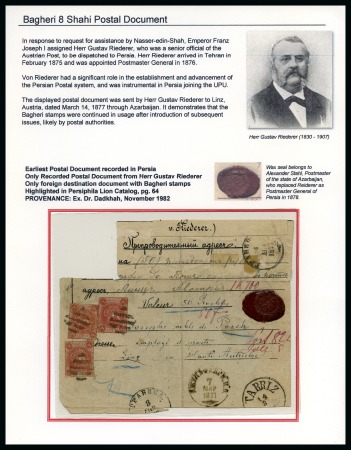 Lot 10155
Palestine and Holy Land
Price realised
11'000 EUR
Estimate
10'000 – 15'000 EUR
Auction date
Mon 30 Nov 2020 at 14:00 (Europe/Zurich)
Description:
UNIQUE USAGE OF THE BAGERI ISSUE TO A FOREIGN DESTINATION
1868-70 8sh. reddish orange, three singles, applied to the front of a postal document, each tied by thick barred squared cancels, document was sent by Herr Gustav Riederer in Tabriz to via Azerbaijan to Linz, Austria, dated March 14, 1877, an important exhibition showpiece, neatly mounted and written up on an exhibition page, showpiece, signed Sadri
Provenance: Dadkhah
Note: Gustav Riederer, was a senior official of the Austrian Post, to be dispatched to Persia. He arrived in Tehran in February 1875 and was appointed Postmaster General in 1876. Riederer had a significant role in the establishment and advancement of the Persian Postal system, and was instrumental in Persia joining the UPU.
Catalogue reference:
Persiphila 4