Lot 10073 –
Statues: Athlete in bronze holding up an Olympic winner's wreath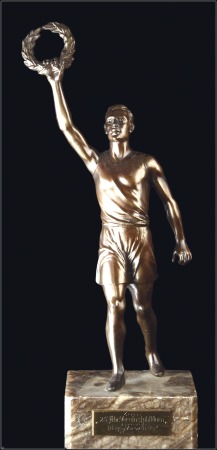 Lot 10073 –
Statues: Athlete in bronze holding up an Olympic winner's wreath
Olympics » Olympic Statues
Auction date
Tue 27 Oct 2020 at 08:30 (UTC)
Description
Statues: Athlete in bronze holding up an Olympic winner's wreath, 28.5cm tall, mounted on marble plinth 10cm x 10cm, crack on left shoulder, an attractive showpiece
Note: The olive wreath also known as kotinos (Greek: κότινος),was the prize for the winner at the ancient Olympic Games. It was a branch of the wild olive tree that grew at Olympia, intertwined to form a circle or a horse-shoe. The branches of the sacred wild-olive tree near the temple of Zeus were cut by a "pais amfithalis" (a boy whose parents were both alive) with a pair of golden scissors. Then he took them to the temple of Hera and placed them on a gold-ivory table. From there, the Hellanodikai (the judges of the Olympic Games) would take them, make the wreaths and crown the winners of the Games.
Please note that we are still working on adding images for the lots. If the lot you are interested in does not have images available yet, we invite you to check again in a few days.
If you still cannot find the images you are looking for in a few days, please send us a message. Important: don't forget to mention the lot number(s).
Thank you for your understanding.