Lot 40513 –
1849 Epaulettes 10c brun annulé P73 sur lettre de LIEGE/22/DEC/1849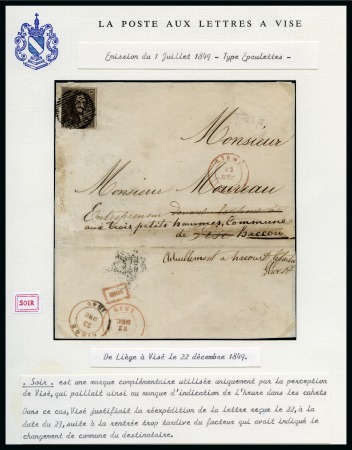 Lot 40513 –
1849 Epaulettes 10c brun annulé P73 sur lettre de LIEGE/22/DEC/1849
Belgium » Belgique. 1849 Epaulettes – Émission
Auction date
Wed 11 Dec 2019 at 13:30 (Europe/Zurich)
10c brun annulé P73 sur lettre de LIEGE/22/DEC/1849 Fise, réexpédiée vers Haccourt avec Càd. VISE et petit cachet rectangulaire "SOIR" et manuscrit " actuellement à Haccourt le facteur …". La marque postale "SOIR" a été utilisée, semble-t'il uniquement par le bureau de Visé pour justifier l'arrivée à Haccourt le lendemain de la réexpédition vu le manque de l'indication de l'heure dans les premiers cachets à date. Pièce d'histoire postale rarissime.
Please note that we are still working on adding images for the lots. If the lot you are interested in does not have images available yet, we invite you to check again in a few days.
If you still cannot find the images you are looking for in a few days, please send us a message. Important: don't forget to mention the lot number(s).
Thank you for your understanding.